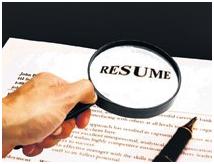 These days recruiters have a tough job when it comes to resume screening, as the major bottleneck lies in the authenticity of the documents. Many find it difficult to validate the additional professional qualifications that are mentioned. Here is an attempt to bring forth some points that might be useful in selecting the right candidate and filtering out the fake ones.
How would fake resume appear?
• There are chances that the experience would be very generic and flowery without giving away any specific details.
• There could be exaggerated claims about accomplishments.
• There will be very few operational details.
Here are some pointers that might help to identify a fake resume:
• The experience and the education (in case of additional professional qualifications – the institute that provided the course) should be validated. This could be done through internal background checking. Alternatively, this can also be outsourced to a professional background verification agency, which is well versed with such checks.
• Candidates should carry their original experience letters and certificates from the previous organizations for the HR interview. These documents need to be verified carefully. They should also carry the appointment letter and last drawn salary slip of the current organization.
• A reference check can be done from the reporting manager of the previous organization. References provided by the candidate (if suspicious) should not be accepted to ascertain the experience.
• A practical assessment might go a long way to identify the potential of the candidate. However, one should be careful not to make these tests repetitive. The tests should be new and have fresh questions. As a smart candidate would anyway, come prepared with all the answers if he/she knows the questions that are expected.
• In case there is a doubt about the experience mentioned, the following three questions can prove to be very handy.
1. What is the official id of your previous organization?
2. What was the location of the project you worked on?
3. What was your team size?
Going into such detailed information will most definitely bring out the true picture.
• It is observed very often, there is a mismatch between the technical skills mentioned in the first telephonic round and the resume available with the recruiter, in the case of manipulated resumes.
• Candidates should also be observed carefully when they go through their resume during the HR interview. In addition, it is a good practice to get the candidate's signature on their resumes. This, in some way makes the resume a more serious and validated representation of their qualifications and achievements.
Behavioral inconsistencies that might be observed during the interview
1. The candidate might take a long time to answer a question.
2. The candidate might ask the interviewer to repeat the questions often.
3. The person fumbles initially and then recites the answer.
These simple techniques would help the recruiters identify the candidates with fake resumes.