It was an inauspicious day. It certainly was! Raunak had a "gut feeling" about it when the black cat crossed his path in the morning when he was leaving for office. But the meeting he was going for was more important than what his gut or any other part of the body felt. Success in this meeting would mean opening up of new frontiers for Raunak. He would have a business partner in US to export his garments there. Raunak had successfully hijacked the deal from his Chinese competitors and there was no way he could have gone late for the meeting and blown his chance away.
But Raunak had made the mistake of not taking fate into consideration. Fate had sent the cat as a sign for him, which he ignored. And now, fate, being thus challenged, decided to play a cruel joke on him to take its revenge.
What else was it if not a joke? On one hand was the jealous driver, Mushtaq, who had made it his life's mission to expose Sajjan Singh and reclaim his lost authority in the housing society. On the other hand was Sajjan Singh himself, whose only mission was to ensure that all the drivers passing by on the road knew that he was driving a Mercedes and could beat any of them.
Here was Mushtaq, finally getting the courage to knock on the door of Singh apartment. And there was Sajjan, getting ready to knock his way into a fateful highway adventure.
Here was Mushtaq, disclosing all to Lajjo, who had made him sit comfortably in their drawing room and was now finding it difficult to believe what was being told to her. And there was Sajjan, who was well into his driving frenzy on the treacherous roads of Mumbai cursing and abusing other drivers, encouraged today, by Raunak's need for speed. Raunak shuddered once in a while, praying that he reached the meeting on time, with all his body parts intact. But being just a pawn in this grand joke of fate, his shudder could only result in muffled protestations, which, Sajjan happily ignored.
Here was Mushtaq, giving one shock after another to Lajjo, whose disbelief was now turning to fear. Fear based on Mushtaq's biggest disclosure, which, being a good storyteller, he had kept for the end. And there was Sajjan, giving his piece of mind to a fellow Honda driver who had dared to cross his lane and move ahead of him, missing the Mercedes just by a few inches. And while the not-so-pleasant pleasantries were being exchanged by the drivers, Raunak was busy coordinating the arrangement for the meeting on his phone.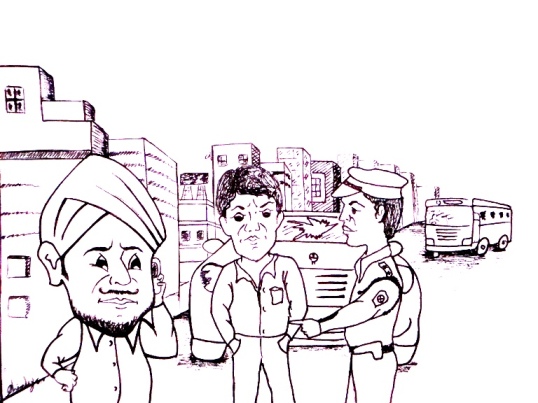 Here was Mushtaq, at the end of his tale. Having finally dropped the bomb, he relished the effect his disclosure brought on Lajjo's face. And there was Sajjan, who had stopped the car and moved out to confront the Honda driver.
And then, all at once, lot of things happened. Mushtaq's no-holds-barred tale had caused a surge of adrenaline in Lajjo's veins and she lunged towards her phone in an attempt to warn her husband. Raunak picked up the call, his gaze affixed on Sajjan. And Sajjan thought it best to settle his verbal duel with the Honda driver fast and knocked the poor fellow down with a single punch on his face.
Before Raunak could cut the call and get out of the car to control the situation, Sajjan had done his bit. Through a series of kicks and punches he had ensured that his competitor was reduced to being just a helpless body, bleeding all over, barely managing to keep alive and conscious.
By the time Raunak and other passers by managed to overpower Sajjan and snatch him away from the other fellow, and take stock of the damage that was done, police had emerged on the scene.
Yes trust us! The same Indian police who, on lighter note, are famous for arriving at the scene of crime after the culprits have absconded! That same police arrived just at the right time to apprehend both Sajjan and his employer. Fate! Who can win a battle with fate!
What happened then? What do you think? Lot of uncomfortable questions were asked, papers were demanded, abuses were hurled at the perpetrators, stupid excuses were given which were instantly rejected and at the end of all this, both Raunak and Sajjan were hauled up in the police van for special treatment in the police station, the Mercedes was towed away and the poor, battered Honda driver was sent off to the hospital. Phew! So much for climax!
And now the anti climax! The police after a few calls here and there confirmed their suspicion and told Raunak all about Sajjan's adventures back in his hometown. And so Raunak finally decided to pick up Lajjo's call who was calling incessantly after he had hung up abruptly.
"Sajjan is a wanted criminal!" gushed Lajjo, her voice brimming with a strange mixture of apprehension and excitement. "He has murdered a man and severely wounded another in Azamgarh a month ago and the police are searching for him everywhere. Not only that, he also has connections with the underworld here!"
"I know." Raunak replied calmly.
"You know! What! How?"
Raunak kept quiet. Lajjo suffered a fresh wave of adrenalin attack. Raunak's silence had told her that something had gone horribly wrong and she was too late.
"Where are you? Are you all right?" Lajjo asked, her voice choking with emotions.
Raunak unable to control himself anymore told her everything that had happened. How in a matter of minutes he had got involved in a police case and was, for the first time in his life, going inside a police station for all the wrong reasons.
Lajjo's sobs on the other end of the phone added to his woes. But he kept his cool and asked her to meet him at the police station with a lawyer friend of his.
And what about the Sharmas? Did nobody apprehend them for what they did?
Patience, friends, patience! Wait till the next Thursday!