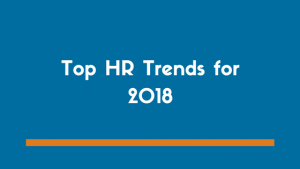 Season's greetings to all our readers! Festivity is in the air and we are enveloped by the Xmas cheer. As customary, we all look forward to welcoming the New Year and have high hopes for the year – 2018!
Keeping our personal wish lists aside, let's try and foresee what could be the major HR trends that may emerge in 2018. In the upcoming year HR has to engage itself as a Strategic Business Partner in the system. The tide is changing course and HR as a function is now being given its due place as a Business partner and not just as another money draining department, most view it as.
2018 will also witness greater emphasize on productivity. The last few years have seen HR leaders harp about and focus on productivity. We see a slow change at the horizon. Traditionally, recruiting fresh blood was the solution to most problems. Going forward harnessing the potential of existing employees and tapping in house resources will gain momentum.
Over the years we have seen a steady decline in the Tayloristic organization model, wherein everybody has a clearly defined and assigned job. With changing times and assignment based jobs, flexibility is the need of the hour. The jobs have become more flexible and employees are getting the opportunity to craft their own job, to make the best fit with their competence, needs and capabilities. Teams now are not built of people with specific fixed jobs, but of people who have specific skills that are needed to deliver the assignment. Employees with broad skill sets can use certain skills in Team 1 and another set of their skills in Team 2 in their next assignment.
Learning and development has also been evolving over the years. Traditional classroom training has been left behind and learning 'Real time' has come to the forefront. A lot of time and resources have been and are still being wasted on classroom training for groups of employees on very broad subjects, often not directed at immediate application, but for possible future use. 2018 should see a rise in real time learning. Going forward big chunks of material should be divided in more digestible small pieces (micro learning). Employees should have easy access to learning material when they need it (just in time). Knowledge and skills can be learnt in a playful manner (gamification) and learning solutions should be made more fun.
Headhunting was limited to HR racking their brains and sifting through resumes on career websites. The penetration of social media has made it easier getting in touch with candidates. Talent pools can now be identified simply by searching hashtags, by posting requirement on Facebook/ LinkedIn. Candidates can be engaged either in groups or individually depending on the platform. 2018 will see a rise in this phenomenon too!
Developing a remote workforce shall work out to be extremely cost effective for organizations. The traditional setup wherein we have all our employees huddled up in a room/building, is going to change. Work from home/ working virtually works out to be cheaper for organizations and is the need of the hour. This now makes it possible to recruit from almost anywhere in the world. It will widen the candidate pool for companies and the job market for prospective candidates. It's also a way to retain current employees and boost job satisfaction through a better work-life balance.
To sum up, 2018's focus should be on technology! Technologies to find people, connect people, engage people, enhance learning and even replace people! For years, technology has acted as a tool to help with day-to-day tasks, but the focus in 2018 will be 'technology as a way of life in the workplace'