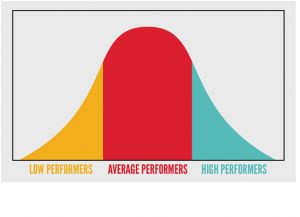 Performance appraisals have been around almost as long as business itself. Why do we have performance appraisal systems in place? Every business needs a performance management system to accomplish three things: to review contributions of employees, reward their accomplishments and give/receive feedback.
Recently in 2016 we have been hearing of a lot of big IT companies scrapping the use of bell curve in their performance management system. A few are – Zensar, TCS and Wipro.
What is a bell curve system of appraisal? It is a forced ranking system of appraisal of the employees by the management. Jack Welch, the famous GE CEO, pioneered this model of appraisal. He called it the vitality model. It is a '20-70-10' system. The 'top 20' percent of the workforce is most productive, the next 70% (the 'vital 70 %') work satisfactorily. The other 10% ('bottom 10%') are the non performers/poor performers. The managers then have to plot team members along a distribution curve. According to Welsh the bottom 10% should be released periodically. Herein employees can be categorised into 3 categories:
Category A – Employees in this category exceed expectations, are high on energy, think out of the box, are committed, loyal and are self motivated.
Category B – These employees meet their KRA and are the average workforce, which has to be driven and motivated to work.
Category C – This category is of non performers/ under performers, those don't meet their targets/KRA.
Companies using the bell curve system of appraisal are ICICI, Birla, Enron, IBM, Dow Chemicals, Motorola, Glaxo SmithKline, Yahoo, Amazon, Cisco, HP, Intel, Goldman Sachs, J.P. Morgan, American Express, etc. However a lot of companies have also moved away from this model like – Microsoft, Adobe, Ford and GE (the pioneers themselves).
The bell curve is a graphical representation of the employee's performance and goes to show that everyone's performance is not the same. Some employees will be outstanding, some average and others at the bottom. Employees usually do not have a problem with the bell curve but with the lack of transparency or understanding of the process.
While there are opposing views about the bell curve, it certainly helps to differentiate performance, which is important in today's times of meritocracy.
Critics of this model emphasise that flatter organisational structures and the growing desire for a collaborative workforce negate the effectiveness of the bell curve performance appraisal system. Some argue that is it fair to categorise your employees in different boxes designated as 'top performers, 'average performers' and 'low-performers'! Maybe yes or maybe not!
However this great tool can help you by:-
•Identifying and rewarding your top performing employees to boost their confidence and motivate them to achieve business goals.
•Encourage mediocre performers to work harder and get into the square of highest performance.
•Identify low performers to guide them right and get them back on the track of better performance.
•The bell curve is perhaps the only method that can be used by organisation to manage leniency and strictness of managers' ratings.
•The bell curve can help identify the training that is most applicable to different categories of employees.
However like every process, this too has some disadvantages:-
•Using the bell curve model may be considered a rigid approach for rating employees. Sometimes managers need to put employees in specific gradients just for the sake of bell curve requirements. This happens more often when the manager's teams are small.
•The bell curve is not suitable for small companies where the number of employees is less than 300. With fewer employees, the categorisation cannot be done properly and the results may not be accurate.
Having said this performance appraisals are meaningless if there's no connection between an employee's performance and organisational performance. The design of a performance management system should be such that it takes into account a variety of factors like the organisation's culture, size and focus on development.
Companies began by rating employees on an extreme bell curve with the expectation that 40% of the workforce would fall short of expectations. At the same time, some abolished the bell curve system. So probably we could conclude this on-going debate by considering a 360 degree feedback from the employee's subordinates, peers and seniors to know how they are perceived in the workplace along with the bell-curve based normalisation methodology. This would bring a more well-rounded review and help in a more accurate assessment of the employee's performance.