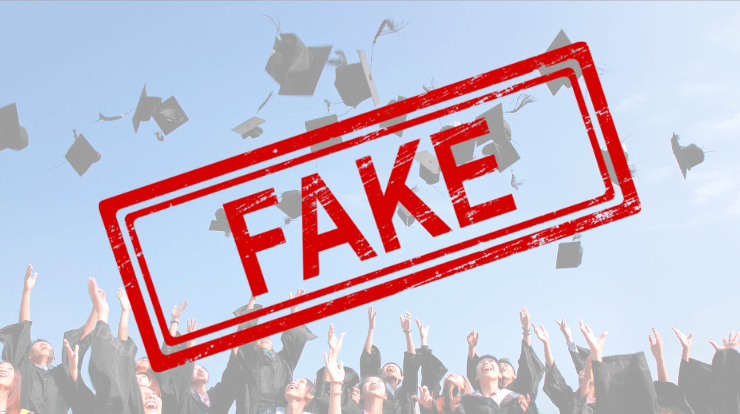 We woke up to shocking news on 21st June'18, Ramesh Tainwala, the CEO of Samsonite was asked to exit the company on account of falsely claiming to possess a doctorate in business administration. This episode is not a rare occurrence in our corporate world. Time and again we have been witness to candidates, managers, CEO's fudge/lie about their qualifications, work experience or personal details. This is not limited to a certain band but is common across companies, industries and hierarchies.
Recently a Delhi University graduate along with his two friends were arrested by the Delhi police for operating 27 fake websites which sold fake mark sheets and degrees! You read it right; degrees and mark sheets are on sale! You name it; they had it – class Xth, class XIIth, graduate degrees, postgraduate certificates, MBBS certificates, BEd, JBT, ITI mark sheets and certificates along with certificates from 27 universities across the country. These crooks have sold over 50,000 mark sheets and degrees.
Think about it, how many fake degrees and mark sheets are there in the job market. How many are doing the rounds, you think we may have come across one of them? Thousands of people have secured jobs through these forged certificates. Some of the universities whose fake degrees and mark sheets they have sold are – Sambalpur University, Odisha, University of Allahabad, Sikkim University, Karnataka State Open University and Nava Nalanda Mahavihara. This gang has been operating this racket since 2001 and has made crores of rupees.
About 50% of applicants/ employees lie/ glorify/use embellished/inaccurate information on their resumes. The most common area identified has been Education verification. As an employer, recruiting manager you have to be vigilant and ensure you get your employees and prospective candidates education degree verified. Don't trust that genuine looking degree! We have scores of printing presses and crooks at work.
Faking/ submitting fake/tampered degrees I always thought was more rampant at the 'bottom of the pyramid'. But like in Tainwala's case that I mentioned above the statement falls flat. We have had other high ranking fraudsters – David Tovar, Wal-Mart's former VP – Corporate communications, Ex-Yahoo CEO Scott Thomson, Bausch & Lomb's former CEO Ronald Zarella; all of them have faked information about their education qualifications.
A recent study revealed that one in every six candidates lied on their resume in 2017. The background check discrepancy levels increased from 10.29% in 2016 to 15.21% in 2017. Discrepancies have been noted in educational qualifications, address verification and during reference checks.
The University Grants Commission (UGC) has published a list of 24 fake universities. The UGC has warned students and public not to enroll in these 24 'self-styled' fake universities. These institutions have been declared as 'Fake Universities' and they are not entitled to confer any degree. The detailed list is also available at UGC website – www.ugc.ac.in.
1. Maithili University/Vishwavidyalaya, Darbhanga, Bihar.
2. Commercial University Ltd., Daryaganj, Delhi.
3. United Nations University, Delhi.
4. Vocational University, Delhi.
5. ADR-Centric Juridical University
6. Indian Institution of Science and Engineering, New Delhi
7. Viswakarma Open University for Self-employment, New Delhi
8. Adhyatmik Vishwavidyalaya (Spiritual University), Delhi
9. BadaganviSarkar World Open University Education Society, Belgaum (Karnataka)
10. St. John's University, Kishanattam, Kerala
11. Raja Arabic University, Nagpur
12. Indian Institute of Alternative Medicine, Kolkata
13. Institute of Alternative Medicine and Research, Kolkata
14. Varanaseya Sanskrit Vishwavidyalaya, Delhi.
15. Mahila Gram Vidyapith/Vishwavidyalaya, (Women's University),Allahabad ( UP )
16. Gandhi Hindi Vidyapith, Prayag, Allahabad (UP)
17. National University of Electro Complex Homeopathy, Kanpur
18. Netaji Subhash Chandra Bose University (Open University), Aligarh, (UP).
19. Uttar Pradesh Vishwavidyalaya, KosiKalan, Mathura (UP).
20. Maharana Partap Shiksha NiketanVishwavidyalaya, Pratapgarh (UP).
21. Indraprastha Shiksha Parishad, (UP)
22. Nababharat Shiksha Parishad
23. North Orissa University of Agriculture & Technology, Odisha
24. Sree Bodhi Academy of Higher Education, Pondicherry
Note: Bhartiya Shiksha Parishad, Lucknow, UP- the matter is subjudice before the District Judge – Lucknow
Hence, beware, like I said – Degree deceits are on the rise, steady rise!