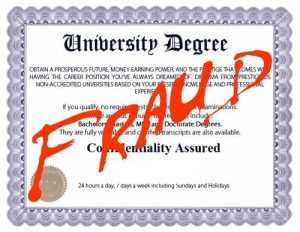 I sit shell shocked as I pen down this blog. During an off-the-cuff conversation with a friend, I learnt how she was intending to pursue a B.Ed. (Bachelor of Education). Curious, I enquired further and in due course learnt, that the B.Ed. shall be pursued from the comfort of her home. The catch was, this was a full-time course from a university based in another state.
I was taken aback. I have heard of such frauds and seen them regularly in terms of data and statistics in our company, since that's what we do, sieve the charlatans. However, someone known to me, indulging in such an unlawful course of action, left me bewildered. I decided to take advantage of the situation to 'educate' myself in tricks these 'Masters in Fraud and Deceit' undertake. So, I probed and delved deeper into this unlawful racket.
It was shocking to learn that to acquire these degrees from reputed universities, you have to pay a premium way beyond the regular fees. The attendance is taken care of, as you sit in your cozy homes idling away time, your attendance is being marked all the way in another state, day after day. At the end of each semester, you just have to go and write an exam, which is pretty much rigged, irrespective of how you perform, you will be awarded a first class degree, at the end of the course. Apparently, it's part of the package! You shall then be awarded, a degree, in this case, B.Ed. and go and join some school, where you shall be given the responsibility of teaching children. In other cases, maybe go and work in the corporate sector or some other work setting, depending on the degree you've acquired.
That was not the end of my inquisitiveness, I further probed, what if the employing organization conducted a background verification check and the degree came under the scanner. To which I learnt, potential candidates have a feeling that it's only the blue-chip companies that invest in background verification services, mid to small level organization, don't undertake them. Which I must highlight is not true, this is sheer ignorance on the part of the candidate in question.
Now let's fast forward a tad bit, this candidate might be in future teaching your child at school, college or university. Candidates such as these may be your potential employee dealing with sensitive data, making important deals or in a client facing profile. Candidates such as these are employed in hospitals, police stations, law firms; every place, where a degree can be fabricated.
The problem is amplified by an increasing number of bogus institutions operating pan India and having networks in reputed universities and institutions. It's never been easier to fake a professional-looking degree, or to obtain one on the internet.
India has the disreputable label of being the centriole of the highest number of cases of employment-related inconsistencies, education being a major chunk of the pie. Click To TweetWhat makes it easy for deceivers is that as per a rough estimate, there are about 2500 fake universities and 7500 fake companies in existence in India. What is alarming is that not only bogus universities but reputed institutes are involved in this sham of issuing forged certificates.
While Uttar Pradesh tops the list of bogus universities operating in the state, Karnataka has recorded the highest number of employment background inconsistency cases. The only way to combat this menace and sieve out these fraudsters is to engage a professional background verification vendor to carry out a full spectrum of verification services for you.
Detection is the deterrent for organizations in combating degree frauds. Click To Tweet Combat the rise of 'Masters in Fraud and Deceit' with our foolproof background verification services. Click To Tweet
JantaKhoj – Your candidate. Our verification.
Click To Tweet
Note to readers:
Here is a list of 24 fake universities as declared by UGC:
1. Maithili University/Vishwavidyalaya, Darbhanga, Bihar.
2. Commercial University Ltd., Daryaganj, Delhi.
3. United Nations University, Delhi.
4. Vocational University, Delhi.
5. ADR-Centric Juridical University, ADR House, 8J, Gopala Tower, 25 Rajendra Place, New Delhi – 110008.
6. Indian Institution of Science and Engineering, New Delhi
7. Viswakarma Open University for Self-employment, India, Rozgar Sewasadan, 672, Sanjay Enclave, Opp. GTK DEPOT, New Delhi110033
8. Adhyatmik Vishwavidyalaya (Spiritual University), 351-352, Phase-I, Block-A, Vijay Vihar, Rithala, Rohini, Delhi-110085
9. BadaganviSarkar World Open University Education Society, Gokak, Belgaum (Karnataka)
10. St. John's University, Kishanattam, Kerala
11. Raja Arabic University, Nagpur
12. Indian Institute of Alternative Medicine, 80, Chowringhee Road, Kolkata- 20.
13. Institute of Alternative Medicine and Research, 8-A, Diamond Harbor Road Builtech inn, 2nd Floor, Thakurpukur, Kolkata-700063.
14. Varanaseya Sanskrit Vishwavidyalaya, Varanasi, UP/Jagatpuri, Delhi.
15. Mahila Gram Vidyapith/Vishwavidyalaya, (Women's University) Prayag, Allahabad (UP)
16. Gandhi Hindi Vidyapith, Prayag, Allahabad (UP)
17. National University of Electro Complex Homeopathy, Kanpur
18. Netaji Subhash Chandra Bose University (Open University), Achaltal, Aligarh, (UP).
19. Uttar Pradesh Vishwavidyalaya, KosiKalan, Mathura (UP).
20. Maharana Partap Shiksha NiketanVishwavidyalaya, Pratapgarh (UP).
21. Indraprastha Shiksha Parishad, Institutional Area, Khoda, Makanpur, Noida, Phase-II, (UP)
22. Nababharat Shiksha Parishad, AnupoornaBhawan, Plot No. 242, PaniTanki Road, Shaktinagar, Rourkela-769014.
23. North Orissa University of Agriculture & Technology, University Road Baripada, Distt. Mayurbhanj, Odisha-757003
24. Sree Bodhi Academy of Higher Education, No. 186, Thilaspet, Vazhuthavoor Road, Pondicherry-605009
Here is a list of fake websites issuing bogus degrees:
– bseap.org.in, pertaining to Board of Secondary Education Andhra Pradesh,
– alldunivpio.org, pertaining to the University of Allahabad,
– upboard.in, pertaining to UP State Board,
– statecouncil.in, pertaining to Karnataka State Council of Intermediate and Higher Education,
– dcrusm.org, pertaining to Deenbandhu Chhotu Ram University of Science and Technology, Haryana,
– punjabboard.org, pertaining to Punjab State Open School,
– ncte.org.in, pertaining to Northern Council for Vocational Training,
– ksou.info, pertaining to Baba Sahib Ambedkar Institute of Technology Management,
– pcigov.in, pertaining to Para Medical Council (India) and
– cisceresults.org, pertaining to Council for the Indian School Certificate Examinations