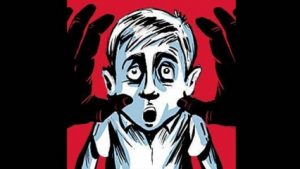 January 2016 – A 62 year old man in Ghaziabad was arrested for raping a six-year-old girl inside a daycare centre. He is the father-in-law of the owner of the day care facility. The little girl apparently addresses him as 'Dadu'. (In North India children lovingly call their paternal grandfather Dadu)
May 2016: A four year old girl was allegedly sexually assaulted by her dance teacher at a summer camp in Bengaluru.
May-2016: Man held for sexual assault of a 3 year old girl child at a day-care centre. The accused is the husband of the woman who runs the centre.
25 Nov 2016: A 10 month-old girl manhandled and brutally thrashed in the crèche by the attendant in Mumbai. CCTV footage of the incident showed the female attendant hitting, kicking and throwing the child while the other kids were asleep.
Every day we wake up to the gruesome reality of India's growing instances of child abuse. As a parent, these dastardly incidents disturb me deeply. It makes me wonder do all working mothers and fathers feel guilty because they have to leave their child/children at a daycare. I'm sure when such working parents read of all this they must be engulfed by rage, fear and would want to withdraw their little ones from the daycares.
I chose not to send my daughter to a day care! That was a choice I made, however I am cognizant of the fact that all parents do not have this choice/option. I am blessed to be working with an organization that is sensitive to my needs as a parent. But then again, we all are not lucky to find such sensitive and progressive places of work.
Coming back to the parents, who send their little ones to day cares/ crèches – Do they feel their children are safe? I am sure – NO!
Experts say children left at day care centres are at risk because the government does not have any regulation over the sector. Most of these centres operate in the unorganized sector. Anybody can start a day care in India.
So what is the solution to the horrifying incidents mentioned above?
The day care centres should have completed the criminal verification and background screening for all its staff members. It is a basic form of verifying the criminal/civil background of a candidate/employee often ignored by day care managers and owners. They should go a step ahead and get their address and ID proofs verified too.
We have to be certain that the people we entrust our little children with are not only who they claim to be, but also have a clean record. Parents must make it a point to demand that these checks are done by the centres/ crèches.
Furthermore, owners should train and sensitize the support staff; teachers and caretakers who look after the children. Owners should tell their staff explicitly to handle children as per the company policy and not in accordance to their own parenting beliefs and state the required guidelines for them to adhere too. Often attendants are maids/ayahs who are from rural/semi-urban backgrounds. They believe it is alright to whack or spank a child, because that is the practice followed at their homes and that's why it's important to have a clear policy on handling children.
In addition, parents should insist that the day care should follow an ideal adult-child ratio. Ideally as per me there should be one adult for every three to four children who are less than a year-old as they require extra attention. A ratio of 1:5 can work for children between one to five years.
Apart from the above mentioned precautionary measures, parents have to be aware that sexual assault with children is not the only face of child abuse. Elucidated below are other major forms of child abuse:-
1. Physical abuse – It include striking, kicking, shaking, starving or throwing any object over a child with an intention to cause physical injury on the child's body.
2. Neglect – Neglect is that form of child abuse where a child is subjected to emotional or physical harm due to neglect of his parents, guardian or any other person.
3. Emotional abuse – It includes unnecessary and continuous criticism of a child. This abuse has a negative effect on a child's emotional development.
4. Substance abuse – This form of child abuse includes exposing and indulging the child to alcohol, tobacco, illicit drugs and illegal substances of intoxication.

5. Abandonment – In this form of child abuse, the child is left alone without food, medicine or care. For example: – the abandonment of a child in a dark room for a long period can have deep harmful effects on the psychological development of a child. Abandonment for a longer period of time can also lead to death.
To sum up, verification of caretakers, maids and nannies at day cares and crèches is an important mechanism for reducing the risk of a bad hire that could affect the lives and psyches of our little vulnerable children. Your little ones at these centre's are in close proximity with the staff. Ensure you leave your bundle of joy with verified staff. Verification plays a major role in averting danger at day cares and crèches, as it helps sift the good grains from the bad ones.