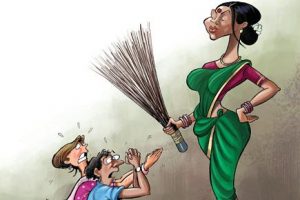 Every day when I skim through the news, it's so disheartening to see articles of crimes ranging from burglaries, robberies, murders, rapes and abductions. It seems our city, our state, our country, the world is no longer a safe place. Every year countless innocents are harmed/killed due to the above mentioned crimes. It's heart wrenching to read of the ghastly and dastardly side of us humans. It seems to me the moral fibre of our country has deteriorated. As a society, we have gone to the dogs! In such a scenario what can we do to make a change? Various measures are being taken at macro and micro levels to nip crime from the bud. However this change will be sluggish!
If we analyse the data we will be shocked to know that the burglaries, robberies, murders, rapes and abductions we read of, have the hand of people in close proximity to us. A sizeable chunk of these cases occur either because of our domestic helpers or due to their connivance.
Now we come to the questions that who all come under the umbrella of domestic helpers? Are they just our domestics helps i.e. aya? No, when we speak of domestic helpers here we are talking about – domestic helps (aya), maidservants, manservants, nannies, housekeepers, cooks, drivers, gardeners, guards, medical attendants, etc.
While various steps are being undertaken to curb the crime rate, we have to be proactive and safeguard ourselves as well. The first and foremost step towards that is, verifying the people who work in close proximity with us in our homes.
In this day and age we hire helps to lessen our burden but practically it can be doing more harm than help if they are not verified. We so easily let unknown people into our homes, lives and around our families as nannies, maids, servants and watchmen. Do we know of their backgrounds? We hire helps through trusted references or somebody who has been employed in many households in the neighbourhood. A bad hire at work costs companies few thousands however a bad hire at home can cost us much more.
In most of the unfortunate cases, the loss and tragedy can be traced back to the ignorance of the homeowners who recruit these unscrupulous so-called domestic helpers. Failure to take due caution while going through the hiring process can be lethal. We hire helps based on verbal references and pay sometimes in the form of loss of valuables, abused children, broken bones, trauma, rape and even death.
As a homeowner or a tenant, you already have a number of things to worry about regarding the upkeep of your home. Having a major issue like a theft because of an employee with an unverified background can be an unnecessary headache that can easily be avoided by doing background verification on any potential or existing domestic help to make sure that they are, in fact, who they claim to be. Here are a few kinds of background checks that a homeowner can avail of:
Domestic help verification – Home staff, popularly called domestic helpers, work in close proximity to the family, and are therefore the employees who need to undergo the most comprehensive background verification. JantaKhoj provides a background verification option tailored specifically for domestic helpers, like maidservants and manservant's, nannies, gardeners, or security guards, which includes an address check, criminal verification and reference verification (by checking with the person's previous employers).
Driver verification – Surprisingly, your driver can be a big threat to your family's security, for the simple reason that he (or she) is in charge of your means of transport. Recently, there have been reports of incidents where drivers – even those enlisted by security agencies – gave their employers the slip and escaped with a large sum of money. The driver verification process is therefore focused on minimising these risks and includes driving license verification in addition to the basics (address verification, criminal record check and reference check).
Tenant Verification – In today's world, one's word or a handshake has no value, as tenants renege on their promises without a care. If you are thinking of renting your home to a tenant, make use of this service provided by JantaKhoj that is targeted specifically at tenants seeking possession. Things factored into the tenant background verification are a permanent address verification (including the family's reputation in that area) and the basic criminal record and reference verification.
Customised Verification – For the homeowners seeking a middle path, there is an option where you can put together your own made-to-order background verification package from the options of address verification, criminal record check, previous employment verification and a reference check. This is particularly useful if you want to go above and beyond the other packages and do a thorough check.
Although the government and state agencies try their best to ensure the safety of citizens, these perpetrators still manage to strike. You are also responsible to play an active role in ensuring the safety of your family and home. With crime rates on the rise in recent years, it has become imperative to check up on employees in your home both when you recruit them and periodically while they are working under you for maximum security and minimum worry.
We are always there at your service – JantaKhoj InfoServices: Your candidate. Our verification!