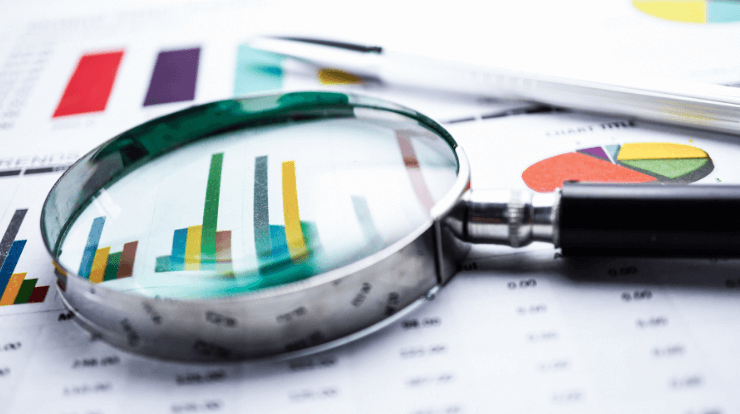 In today's times there is a fake substitute for everything tangible and in many cases for intangible things too. In recent times, we have seen in the news, cases wherein individuals are indulging in procuring fake educational degrees/documents to ensure better job opportunities.
If you think we harp too much about screenings and verifications, then you would be alarmed to learn that – 1 in 10 candidates in India lies about their education on their resume. That's right!
Early into the year we heard of the infamous fake degree racket operating in Delhi. It was unearthed that more than 50,000 students had procured fake certificates, mark sheets and degrees. These rogues were operating 27 fake websites which offered fake class X, class XII, graduate and postgraduate certificates/degrees. It was revealed when the scam was exposed that students paid as high as INR 3 Lakhs for a degree.
Here is a list of fake websites that had been created by them:
– bseap.org.in, pertaining to Board of Secondary Education Andhra Pradesh,
– alldunivpio.org, pertaining to University of Allahabad,
– upboard.in, pertaining to UP State Board,
– statecouncil.in, pertaining to Karnataka State Council of Intermediate and Higher Education,
– dcrusm.org, pertaining to Deenbandhu Chhotu Ram University of Science and Technology, Haryana,
– punjabboard.org, pertaining to Punjab State Open School,
– ncte.org.in, pertaining to Northern Council For Vocational Training,
– ksou.info, pertaining to Baba Sahib Ambedkar Institute of Technology Management,
– pcigov.in, pertaining to Para Medical Council (India) and
– cisceresults.org, pertaining to Council For The Indian School Certificate Examinations
The fake websites generated such authenticate degrees that even you and I wouldn't be able to tell a fake one from a genuine one. What's alarming is that thousands of people have secured jobs through these forged certificates.
I was reading not long ago, that this trend has trickled into the medicine world as well. The Maharashtra Medical Council suspended the licenses of around 20 doctors for furnishing fake medical degrees. Isn't this a terrifying thought! It gave me goosebumps reading it. Imagine having a fake degree holder administering medicines to your loved ones. In worst cases performing surgical operations on them. It's downright petrifying!
Imagine the candidate you just hired, who boasted of doing well at university; who seems so confident and feels like the right fit – HAS A FAKE DEGREE! It's possible, let me assure you! Being in the business of verification and screening, we have time and again come face to face with instances where candidates have lied about their educational qualifications.
Motive – to attain the job; Result – Being fired and in some cases even being blacklisted.
Let's give you some primary data from JantaKhoj to substantiate our case. Here are the education discrepancy statistics over the years as seen by us. The education discrepancy statistics as mentioned below are year wise from our JantaKhoj data. It reflects the % of education discrepancy in the total discrepancy. It's to highlight to our readers what a high % the education component is in the overall discrepancy pie.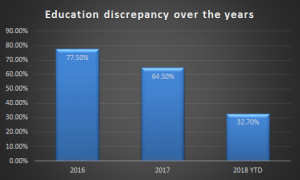 Let's break it down further, for us to have a clear understanding. Mentioned below is the employment discrepancy data for September'17 to September'18 as documented by us. It reflects the % of education discrepancy in the total discrepancy. It's to highlight to our readers what a high % the education component is in the overall discrepancy pie.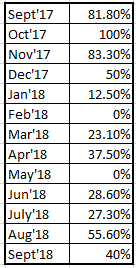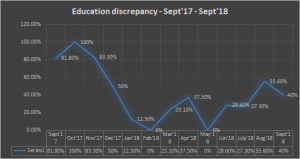 Seeing the above, should have reinstated your firm belief in verifications and screenings. I would like to shed some light on aspects that need to be authenticated during an education check.
• Roll number or the registration number of the candidate
• Course pursued/passed by the candidate
• Year of course completion
• Division/ CGPA attained
At the minimum, we recommend that the highest-level certificate for every employee must be verified.
Recently the University Grants Commission (UGC) published a list of 24 fake universities. The UGC has warned students and public not to enroll in these 24 'self-styled' fake universities. The detailed list is at UGC website – ugc.ac.in.
Here's a list of 24 fake universities by UGC:
1. Maithili University/Vishwavidyalaya, Darbhanga, Bihar.
2. Commercial University Ltd., Daryaganj, Delhi.
3. United Nations University, Delhi.
4. Vocational University, Delhi.
5. ADR-Centric Juridical University, ADR House, 8J, Gopala Tower, 25 Rajendra Place, New Delhi – 110008.
6. Indian Institution of Science and Engineering, New Delhi
7. Viswakarma Open University for Self-employment, India, Rozgar Sewasadan, 672, Sanjay Enclave, Opp. GTK DEPOT, New Delhi110033
8. Adhyatmik Vishwavidyalaya (Spiritual University), 351-352, Phase-I, Block-A, Vijay Vihar, Rithala, Rohini, Delhi-110085
9. BadaganviSarkar World Open University Education Society, Gokak, Belgaum (Karnataka)
10. St. John's University, Kishanattam, Kerala
11. Raja Arabic University, Nagpur
12. Indian Institute of Alternative Medicine, 80, Chowringhee Road, Kolkata- 20.
13. Institute of Alternative Medicine and Research, 8-A, Diamond Harbor Road Builtech inn, 2nd Floor, Thakurpukur, Kolkata-700063.
14. Varanaseya Sanskrit Vishwavidyalaya, Varanasi, UP/Jagatpuri, Delhi.
15. Mahila Gram Vidyapith/Vishwavidyalaya, (Women's University) Prayag, Allahabad ( UP )
16. Gandhi Hindi Vidyapith, Prayag, Allahabad (UP)
17. National University of Electro Complex Homeopathy, Kanpur
18. Netaji Subhash Chandra Bose University (Open University), Achaltal, Aligarh, (UP).
19. Uttar Pradesh Vishwavidyalaya, KosiKalan, Mathura (UP).
20. Maharana Partap Shiksha NiketanVishwavidyalaya, Pratapgarh (UP).
21. Indraprastha Shiksha Parishad, Institutional Area, Khoda, Makanpur, Noida , Phase-II, (UP)
22. Nababharat Shiksha Parishad, AnupoornaBhawan, Plot No. 242, PaniTanki Road, Shaktinagar, Rourkela-769014.
23. North Orissa University of Agriculture & Technology, University Road Baripada, Distt. Mayurbhanj, Odisha-757003
24. Sree Bodhi Academy of Higher Education, No. 186, Thilaspet, Vazhuthavoor Road, Pondicherry-605009
Note to readers:
Bhartiya Shiksha Parishad, Lucknow, UP- the matter is subjudice before the District Judge-Lucknow
Armed with the data and information above, take a stance, a strong one, that – Don't lie to us, don't submit fake documents, because, if we find the lies while you're on the job, we'll just fire you! That's a stance to take!
We can help you take this stance! But like the famous adage goes, God only helps those who help themselves. The decision is yours to take!