Are you one of those who feels content with a prospective employee just ticking the box – No Criminal record? Does a tick give you the assurance, the satisfaction that you have obtained satisfactory evidence that the person you may be hiring has an impeccable record?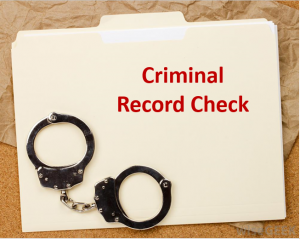 Criminal verification is a critical background check in the pre-employment screening of candidates and for existing employees. A Criminal verification entails checking a person's criminal history to assess his or her trustworthiness. A criminal background check of an individual is a check that delves into the criminal details, if any, of an individual's past Click To Tweet For a safe working environment devoid of unwanted elements, this is one check you ought to undertake on priority. Every new employee or potential candidate's background check should mandatorily include a Criminal verification before they enter your workplace. Any discrepancy, major or minor, has to be dealt on priority and with utmost discretion. One erroneous decision can have severe repercussions on the overall workplace safety and brand reputation.
We all may remember the unfortunate and abominable assault of a lady passenger by the driver of an Uber taxi, led to a disastrous turn of events for the app-based taxi service provider. Not only was Uber sued, they were banned from operating in the Capital city. A major setback for the company. The driver had a preceding criminal record which the company had missed checking out on. The driver was a repeat offender and was also involved in a rape case, for which he served 7 months jail time. Despite this he was operating due to a clear lack of strong background verification policies in place. Lesson learnt, criminal verification is of utmost importance.
In India, criminal background checks are carried out through court records involving civil and criminal cases. Records are checked at various courts and tribunals. Courts covered under a Criminal verification are: – Supreme Court, State Courts, High Courts and District Courts.
Criminal Verification via Lawyer is our premium criminal verification service, which we highly recommend. In this check a practicing lawyer verifies the candidate's criminal records based on his name, date of birth and residential address in all the courts in the concerned state and PAN India. The report will bring to your notice any civil or criminal proceedings against the candidates. The lawyer will check for criminal and civil cases in all the above-mentioned courts. In the event of a criminal record/ civil record being found for your employee, you shall be notified on priority, so that you may take required action against that employee.
Another service we offer is Criminal Database Check where the verification is done by Third party databases which cover adverse records in court judgements, criminal investigations, databases covering terrorists, most wanted criminals, members of parties and groups that are on watch list, among others are used for criminal database checks. This is an online check and is extremely helpful in verifying individuals who have worked around the globe.
We urge you to initiate criminal verification against all existing and new employees. This should not be a onetime process but an ongoing check. An employee you hire today may have a clean record but during tenure may get into the wrong side of the law.
Use the sieve of Criminal verification via lawyer/Criminal Database Check to filter out individuals with tainted credentials and dishonorable actions.
Click To Tweet
Keeping your workplace safe is in your hands.
Don't throw caution to the winds, initiate criminal verification for all your employees. Click To Tweet