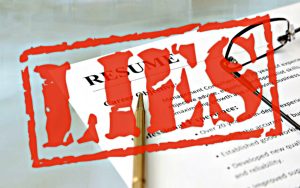 Do you think only scriptwriters and lyrists are imaginative? Well, you haven't then read the tall claims incorporated by job seekers in their applications and resumes. When it comes to seeking a coveted job, prospective candidates have some interesting narratives to weave. Most being, fictitious. Click To Tweet
Giving it to you, hot off the press, a female candidate took on her older sister's identity to get herself a job that her sister was selected for. The twist in the tale being, her older sister was DEAD. It was when the employer ran a background check on her, did the truth come to the fore. If not for the verification conducted, the fraudster would have continued impersonating her deceased sister. Maybe, even got away with the identity theft attempt. When the employer ran an employment check, the candidate's previous employer perplexed with the request, asked why the screening was required, as the candidate in question was dead.
When the imposter's picture was shared, the previous employer, stated, that it was not the same person. When the current employer received the hospital's medical report of her death, the fraud came to light. Armed with proof, the Gurugram based company confronted the employee, who then admitted to the identity theft, of her own deceased sister.
Recently, the CEO of a mid-sized IT company with a glorious 18 years work experience was found to have furnished a fake IIM and IIT degree. It was when the CEO took charge of operations, did the murmurs in the organization start, that the CEO's skills were not in line with his illustrated degrees.
These two recent episodes teach us that, a falsification on a resume may seem like an easy way to boost your candidacy, however, whether you indulge in a 'little white lie' or a 'whale of a tale', fraudulence simply isn't worth it.
Let us highlight famous resume lies and the takeaways from them.
Case1
Scott Thompson, CEO of Yahoo, blatantly lied about his education degree, stating he had degrees in accounting and computer science.
Lesson learnt – If that sought after promotion or job required certain educational credentials, enroll yourself for a course or a degree, rather than falsifying facts. Educational credentials are one of the easiest verifiable components. Be smart, earn the credentials you list.
Case2
Robert Irvine, Host of Food Network's – Dinner Impossible, was caught embellishing his work experience and lost his television show, of which he was a star. He went too far with the glorification and claimed to have created Princess Diana's wedding cake, cook White House Dinners and also claimed knighthood by the Queen. Such tall claims, seldom go unnoticed.
Lesson learnt – Don't ruin your reputation and career, exaggerating your already solid credentials. Trust in your skills and abilities, it will take you far in life.
Case3
Michael Brown, Director of the Federal Emergency Management Agency (FEMA) had to resign due to his inadequate and mismanagement of the response to Hurricane Katrina. To bag the position, he claimed to have overseen emergency services for the City of Edmund, Oklahoma and that he'd worked at the University of Oklahoma as a professor. Unfortunately, both the aforementioned claims were untrue.
Lesson learnt – Telling lies can have far greater ramification than just on your career. You may never be forgiven for mishandling precarious situations. In circumstances where public safety is at stake, don't take up something you're not qualified to manage. Else, like in the above case, can have disastrous consequences.
Now the next time you are updating your resume, please revisit each bit of information to make sure you're stating them truthfully, the whole truth, and nothing but the truth. Most aforementioned candidates lied at the outset of their careers, but karma came calling and haunted them years later. Learn from them and don't make the same mistake – clean up, while you still can.
It's never too late! While you clean up your resume, let us list out for you, aspects considered lying on a resume.
• Falsified job titles
• Exaggerated degrees/diplomas
• Foreign language fluency
• Technical abilities
• GPA (Grade point average)/Percentage/Division
• Designation
• Awards
• Social work/Volunteering hours
• Graduation year
• Promotions
• Salary and compensation
• Job duties
• Fake references
• Reason for leaving the previous job
• Interests and hobbies
• Criminal Records
• Furnishing a fake address
Just be sure not to claim anything you can't back up.
Click To Tweet
If you get away with a tall tale during the interview process, employers most certainly perform background checks after a conditional offer has been made. Even if a company doesn't undertake background screening, furnishing false information during the hiring process is always grounds for termination or withdrawing a job offer. Untruths get revealed inadvertently.
The best way to escape the urge to lie on your resume is to learn how to write a resume that showcases your skill set and achievements. Reiterate your strengths with a well-constructed cover letter that leaves no doubt that you're the person to hire.
If landing a coveted job is one of your goals, then resolve to write a resume that allows your true inner self to shine.
Click To Tweet
Little white lies, will come back to haunt you, with dark blots on your career and reputation. Click To Tweet