The year 2016 has been quite eventful for us in the corporate sector. Here at home, we witnessed de-monetization; Tata Power acquiring Welspun Renewables Energy. We topped the '2016 Outsourcing Index'. We are the world's biggest outsourcing destination in terms of financial attractiveness and business environment, according to a study published by a global management consulting firm.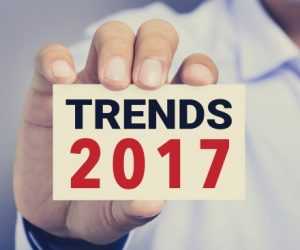 Globally we witnessed Microsoft swooping in to purchase LinkedIn, Ranstad acquired Monster.com, and Oracle bought Netsuite. These were the big ones in the mergers and acquisitions arena. Donald Trump being sworn in as the president of the United States is at the forefront. In today's times, we no longer function in a vacuum. In the era of globalization and glocalization, events overseas affect us too. Business environment doesn't have boundaries and is definitely not static. We have to keep our eyes and ears open to trends shaping up in the international market, as disruptive change is hardly a new phenomenon. We have to galvanize with the international emerging trends. Having said this let us briefly skim through a few of the HR trends analysts are talking about and try and incorporate it within our organization, workplaces and departments.
Gone are the days when HR management was considered a mere recruitment department. Over the years it has evolved to perform a wide array of functions. In recent times, HR departments have become one of the foundation pillars for a company's growth.
The year gone by saw more pressure and stress in the workplace: more challenging work hours and job cuts. And it is just expected to increase. Human resource teams are trying to keep pace. The only way out is to keep reinventing and working around the already existing fundamentals of HR.
Hiring
LinkedIn's annual Global Recruiting Trends 2017 states that there is definitely going to be an increased focus on diversity in hiring. Now, India being a diverse country, this is not new to us. We are also going to see the inclusion of more pre-hire assessments and innovative interviewing tools in the year 2017. The report states that 'we will see technology replace a lot of traditional processes'.
We have already seen companies outsourcing their talent acquisition to third parties. A couple of months ago Tata Motors outsourced its talent acquisition (barring top management hiring) to a leading RPO (recruitment process outsourcing) company. Citigroup's shared services centre in Pune moved to a recruitment process outsourcing (RPO) in October. Others like Mahindra, Wipro, Honeywell, L&T Technology Services and HDFC Life are among an increasing number of companies in India that are embracing RPO to get an edge in securing top talent and in narrowing the challenges of replacement.
The younger generation a.k.a the millennials/ generation Y are going to make use of their smart phones more when it comes to seeking jobs and engaging with recruiters. Also, 2017 is going to see the launch of iPhone 8, which will certainly shake up the smart phone industry. As per reports, in 2017 globally 75% of internet usage will be on a mobile phone, which means more employees will use mobile devices to manage their time, check and respond to emails, check their benefits, manage their trainings, communicate with HR, look for jobs, etc.
Employee experience
Deloitte anticipates that business and HR leaders will be challenged to improve the employee experience, ensure workers remain engaged and their skills updated. After all attrition and retention issues were prevalent in 2016 as well and they will permeate into 2017. The report also highlights that HR leaders also will be challenged to redesign organizations, jobs, and the work itself around digital solutions to optimize business performance. To thrive in the digital age, organizations should focus on breaking functional groups into smaller teams, which are customer-centric and based on learning. Culture and engagement will remain top priorities in 2017
Reward and recognition systems
We would also need to re-look our reward and recognition systems. They need to be measured to know their effectiveness and to ascertain where and how they may be misaligned.
Performance management systems
In the realm of performance management, annual reviews are fast becoming outdated with employees, as employees are wanting more regular feedback and a shift from performance review (where focus is on recent projects) to performance coaching (where long-term goal development is the key and employees skills are developed with career objectives in mind). Frequent feedback is becoming a necessity in performance management programs as nearly 60% of employees say they would like to receive feedback on a daily or weekly basis. HR will need to evolve in 2017 to accommodate this rising need.
Work culture
Several years ago Richard Branson made news, with a picture of him cutting his tie with a pair of scissors. With the rise of the younger generations joining the workplace, 2017 will see continuation of such trends, with more employees demanding to drop their suits and ties, in exchange for jeans and t-shirts. Friday dressing will be incorporated by many more organizations. A lot many may go the Google way by adopting casual dressing as a part of their work culture.
Freelancing
Another trend gradually coming up is the rise of the freelancers. Instead of hiring full time employees, companies may opt for freelancers. In addition to saving a lot on your recruitment cost and other costs, you get highly motivated individuals. Most of the freelancers pursue their passion so they do not view their assignments as 'work'. Also, the younger generation is especially keen to earn extra income. They are not bound by organizational shackles leaving them free to express their creativity. Capitalize on this growing pool of talent and reap its benefits.
Amalgamation is the key
So all the HR folks, team leaders, visionaries and great managers out there – amalgamating best Indian practices with overseas practices is the way ahead in 2017. Make use of technology and incorporate the upcoming trends within your fold to continue enhancing the overall experience for all your internal and external stakeholders' – employees and job-seekers. We have to continue our endeavour to create value proposition for our internal and external stakeholders while we continue focusing on our core competencies.
To, sum up I would like to quote someone I greatly admire, Jack Welch- "Willingness to change is strength, even if it means plunging part of the company into total confusion for a while", "Change before you have to".