Almost a whole year has passed by and a new year is soon to set in. The new year always brings a lot of new hopes and wishes with its dawn. Human resources teams are also geared up with new hopes of advancement with the advent of the new year, 2018.
Human resources have come a long way from being just a department for salary-dispersal and recruitment-station to handling complex grievances and doing in-depth background verification and strict training solutions, through the year, for all the employees. From being just another department to a strategic business development unit.
Progress takes time and those who make progress look easy, have worked extremely hard for the same. Here's a small story for all of us:
A rich man, fond of felines, asked a famous Zen ink painter to draw him a cat. The master agreed and asked the man to come back in three months. When the man returned, he was put off, again and again, until a year passed.
Finally, after a year, the master drew out his brush and without any effort, within few seconds and in just a few strokes of brush, he drew the most amazing picture of a cat. That picture was unique and was marvellous.
More the rich man was astonished at the beauty of the picture, angrier and cheated he felt. "That drawing hardly took you few seconds! Why did you make me wait for an entire year?" he demanded.
Without saying even, a word, the master opened up a cabinet, and out fell thousands of drawings – of cats.
A pat on a back for entire community of HR. We still have miles to cover. 2018 is setting in and is going to bring in more transforms and advancements. Let's see few key changes which are going to be new highlights of the next year –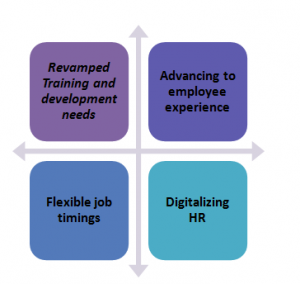 1) Enhanced training and development process: Training is one of the most essential part of human resources. After all, if your axe is not sharp, it will take ages to cut down a tree.
The main focus would be on the way the training is imparted – for the employees, at their convenience and at their availability.
2) Advancing to employee experience: Today's employee is already at the top most level of Maslow's hierarchy of needs. It's time to upgrade the experience of working in an organization and keeping the priciest asset shining for the organization.
Technology should help us map personalized career advancement graph and tailored training & development and engagement technique, for his best experience.
3) Flexible job timings: A piece of work should be done within the time frame with full secrecy maintained, but the place where the employee chooses to work and the time which suits him, should be valued. Permanent to contract jobs or part time jobs, are just a few changes which are going to be main trends for the year to come.
4) Digitalizing HR: Human resources have tremendous paper work. The challenge would be to reduce the load by used of technology, fasten the process of recruitment, assessing the training needs and imparting training and integrating all these for every individual, with help of technology.
The main focus would be to make a better world for the employees and human resource has to take up this challenge to make this come true. The best way to predict future is to create it and I guess we are on the right way!
Happy New Year!!