Background verification, at the moment, doesn't need an introduction. The number of crimes, frauds, cheats, scams and similar drama has increased, and so has the need for background verification. Background verification started for the white collar employees and has spread its wings to blue collar and pink collar employees, brides, grooms, tenants and so on. The list is now endless.
All of us want to be safe rather than being sorry. Isn't it?
Recently, I met an old friend of mine. Generally a happy girl looked quiet sad and her husband was also in some kind of shock. Eventually, she mentioned the reason for the sadness. Well, all I can say is, just a bit of presence of mind and a bit of more carefulness, could be have changed the cards completely.
This couple were looking for a good land deal. From the online sites, dealing in real estates, they found a piece of land, at a suitable location and the budget was within their reach. They contacted the dealer.
After a few meetings, the deal was closed. The couple personally checked all the original documents. They wanted to be sure. Being novice at land dealings, trust was a factor which convinced them more than the documents.
They were super convinced by the dealer and had faith that he, being such an old man, won't do any wrong. The dealer also cooperated well and showed all the documents.
They chose an auspicious date and the deal was sealed and they assumed, that the land was theirs now.
Now, in many land deals, there are no loan facilities. You have to pay in cash/cheque/draft. This couple paid in cheque. The entire amount. A huge amount. Their entire savings.
After purchasing that land, they met an architect, showed him their land, shared how their house should look like and got the whole blue print, for their new house, ready. They were quite excited about the entire project, and these few months were like a dream come true.
The blue print was sent to the municipal corporation for approval. The result came as a nightmare.
The same plot has been registered under three different names.
They did a police complaint and everything, but the person who sold them the land is still not caught. Their money is gone. All of it.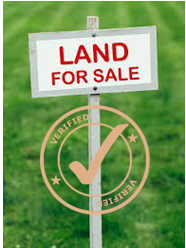 This is not something which is uncommon these days. What's the escape?
When investing such a huge amount of money, can't we add in a simple step before closing a deal? Background verification.
If this couple had undertaken a background verification for the plot, the fraudulent seller would have been in the lockup. The entire history of who owned the land and when and who is the owner of the land at this moment, would be out.
Their hard earned money would be still with them. Safe.
Just to save some time and some money, don't lose everything you own. Next time you think of a good plot, think of background verification. It's time to be smarter. Information is currency, get a background verification done.