Social media has become a necessity, a medium of communication, a status symbol, an influencer or a habit. Everyone has been touched by social media. It has become an integral part of our lives. All of us freely share our thoughts, positive or negative with the rest of the world. A survey says these are most popular reasons for sharing information on social media: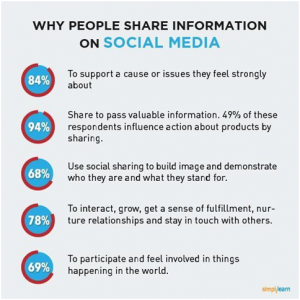 Let's assume two gentlemen – Mr. X and Mr. Y.
Mr X was a young promising individual. He led a dual life – professional and personal. In his  professional life, he worked for a renowned  firm. He had sound technical knowledge and was a part of a very critical project with highly confidential data.
His personal life was a complete social one, at least on the social media platforms. He had thousands of followers on various social media platforms. He loved to update his each and every achievement on all platforms without fail.
The professional project he was working for was a prestigious one and just to flaunt his status in his company and to show off his important role in that project, he leaked little 'harmless' data. 
 Well, he had to give a resignation after that and the company suffered a great loss. There was no malice in his heart but his ignorance and desire to flaunt his status in that crucial project, was very expensive for both him and his organisation. 
 He left that job, found another and life went on.
At present, he is part of another important project.  
 Mr Y was a very aggressive and promising employee of another organization. Whether the project was strictly time lined or the resources scarce, he used to finish the project in his hand on time. Always! He was the kind of resource who was hard to find.  
 There was a time, when the company was not doing very well in the market and hence it didn't give increments to its employees. It happened for three consecutive quarters. This situation is not uncommon. It happens!
 Mr Y didn't take this well and found another job for himself. This opportunity matched his expectations. 
 He updated his new found job on social media, an absolute mandatory step in current times; He expressed his happiness for his new found job and along with that, he also posted a negative comment about his previous organization. 
An employee of three years posting a negative comment on his social media platform, does it harm the company's goodwill? Anyhow at the moment, Mr. Y is at a good position in the same company he joined later, but the market is not that good, again!
These are real life scenarios. It happens. But are organization of today ready for such employees?
You can't buy goodwill, you can only earn it! We all need to be more responsible when we work for an organization and if not, will the organizations have to pay the price?
Of course not!
Social media scans are here. It helps organizations to verify the potential candidate on the social media front too. It scans various social media and business networking sites, blog sites, micro blogging sites, photo/video sharing sites, and other web resources to flag any potentially negative information about the potential candidate.
Mr X and Mr Y both, are at responsible positions, but who wants to take a chance, they might not make the same mistake! Or they may! Who knows? It's always better to be safe than be sorry!
Source: https://www.simplilearn.com/real-impact-social-media-article