In a country where having a house help has been a norm for almost every house, doing a background check seems a bit odd. Isn't it?
I was of the same opinion till I got a personal shocker.
One of my close relative hired a house help to look after their one year old child and old parents at home while they were away at work. They brought this house help from their native place to Bangalore. The agency through which they got this help, assured them that she is mentally and physically fit, and had undergone a back ground check. The agency took a fat charge for the providing same, along with three months' salary of the house help in advance.
When this help reached Bangalore, things were fine till a month or so. One fine normal-kind of a morning, things were going as per everyday routine. After both husband and wife went to office, the kid was with the grandparents (thank God for that) and the help was in kitchen. That's how it used to be. It was not before one hour or so that the grandparents realized that the door was wide open and the lady was just nowhere. All her belongings were right at place but she was nowhere. Even after a lot of calls and a police complaint, the family couldn't trace that girl. In a city like Bangalore finding a girl who could barely speak Hindi was a big challenge.
After 11 in night, they got a call from police station to report there as soon as possible. We all got scared. Now what?
Luckily, the girl was safe and sound and was found wondering on the roads at late night by a patrolling police van. She behaved odd. She complained to police that this family doesn't pay her. Really!
Luckily, this family had a few documents to present where money transaction was mentioned. The agency head was unreachable for a long time. After some more investigation, it turned out that this lady was not mentally stable and had run from her previous work places as well.
After the police let go the relative and the house help, they reached her back to their native place. The agency refused to refund and said we will provide a better house help. Well, will you take a chance again in such cases?
Just imagine
if the maid had run with the baby while the grandparents were sleeping?
if she would have got herself in to some grave trouble while wondering in the streets of Bangalore?
if she would have made more serious charges against the family in front of the police?
In any of the three situations, the family could have easily got themselves into a trouble for life time.
Today with the growing troubles related to house help, there is a very simple solution – BACKGROUND CHECK.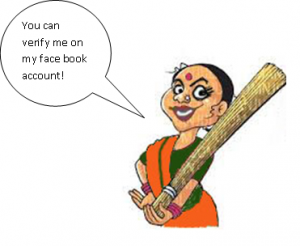 Let's take the entire case the other way – they could have hired this maid and before paying the entire money and getting her to Bangalore, they could have done a background check. They would have found the mental state and case history of the lady. They could have immediately either cancelled the deal or got a better and verified replacement.
They were lucky that they got away with a small shocker, but others may not be so lucky! It's more sensible to be smart by doing proper background verification than running into an absolutely uncalled trouble!
Image Courtesy : Google
(https://www.google.co.in/url?sa=i&rct=j&q=&esrc=s&source=images&cd=&cad=rja&uact=8&ved=0ahUKEwiq_bvW9dvOAhVMpI8KHWZDDosQjRwIBw&url=https%3A%2F%2Fbelleplante.wordpress.com%2F2012%2F07%2F17%2Fthe-age-old-war%2F&psig=AFQjCNE1SVrdSb2BBpVPHiO-5BWAeQFzMw&ust=1472191705533933)