There was a perfect candidate for a vacancy and he was a sought after candidate. A renowned company hired him. His post background verification was all clear and he was hired. Two years passed by and he progressed to higher roles and responsibilities.
It was a good time for him professionally but bad on his personal front. He was in a lot of debt. He was in a lot of stress. To top it all, he took to taking drugs.
His organization was not aware about the recent developments in his life; they were very happy with the way he was progressing. His organization had full faith in him.
He was depressed and needed some extra money. He was not a bad person but the situation was extremely adverse. No one was there for him. So he took an extreme step.
He took a wrong measure to get some extra money a year back, but his organization is still paying the price.
With frauds and crime on a high, can companies take the chance of neglecting background verification during recruitments?
Maybe not.
Most organizations are strictly following background verification process during recruitment. If any candidate fails the background verification check, he is not taken in. On the other hand, the ones who clear the same are brought on-board.
Is it possible that the same employee after joining the organization may fall prey to bad habits like drugs or may commit an unnoticed crime beyond the premises of organization?
Of course, it is.
In the above situation, the employee was a good catch. He was given additional responsibility and a better role. In short, more power. The more powerful an employee, the more vulnerable the organization.
What's the solution?
Iterative background verification.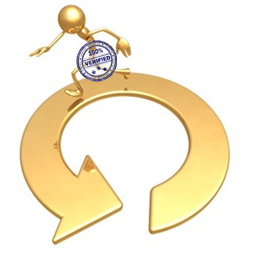 Whenever there is a promotion, salary is revised. When there is change in address, profile is updated. When there is new addition in employee's family, his/her insurance card or other benefits are updated.
Now all these are good, but there may be some updates on the personal side as well. Like a home violence complaint against the employee, or a drug addiction or some other kind of criminal complaint. If an employee doesn't tell, it's difficult for an organization to know.
Simple solution is – whenever a promotion is granted, repeat the background verification process. Or, like a revised annual salary, have revised background verification as well, every year.
It's always better to be safe than sorry. Once there is a harm, it takes years together to get back. Let's not be penny-wise, pound-foolish!