A year has gone by, setting some new trends and breaking few records and throwing some new challenges for us to achieve this year. A new year itself signifies fresh beginnings and new goals. The year that went by, leaves us with so much to work on, that the entire year seems to be very engaging and challenging.
Let's look into most important things been spoken about in the human resource world –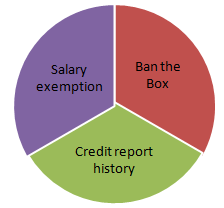 1) Ban the box:
Mr. X goes for a job and in that form he sees a check box for – criminal history. Sadly, he had one. Some fifteen years ago. He already served his tenure for the wrongdoing. But this question reappears in front of him every time he applies for a job.
What follows with a tick in that check box is, no further calls. He was reluctant to mention the same. He has little choice.
How much ever one repents for their wrongdoing, they don't get a fair chance for employment. This check box should be banned. It gained a lot of importance last year. Let's hope this year we don't let this great initiative die down and take it forward.
2) Credit report history:
Mr. X was to be hired for a post of technical advisor. He is being hired for core technical work. He will have absolute no relation with financial transactions.
His credit score is checked and the result shows bad scores.
We have read, written on the topic, of how important the credit score is! Given the case, we would, to be on a safer side, not hire the employee; he may be the best for the post.
Can we have credit score history discrimination too – whether to do it for the given job position or not? Are we going to have the credit score history checked for all levels and all platforms is a question we all need to look in, this year!
3) Salary Exemption:
Again, this Mr. X goes for a job. The opening is for a position and the company gives a certain salary  range to the employees in that category. But this Mr. X has worked in small companies and hence his salary was quite low as compared to the minimum of the range of the new company.
Mr. X has a lot of calibre and should be given salary as per his capabilities. The job is offered to him with salary below the minimum range, although higher than his last salary.
Another very common case of salary discrimination is – when a lady leaves a job for some reason and wants to get back to work after a year or two, even after she proves that she is the best-fit for the job, she is asked the last salary she drew. On basis of that, the salary is negotiated and not on basis of the range applicable for that particular position.
This is a normal case of inequality of pay. Of course, the financial start of an employee might not be great or he or she took a break, but he or she should not suffer through this pay disparity all through the employment journey.
Isn't it!
California is the first one to start this rule – that no employer is allowed to ask about the salary history of the employee. Others are following. Well, to me, this sounds like a great start for the fresh year.
Old trends have given us new goals. Let's all work on it. What say!