This post is in continuation to the earlier one on People Search – A Brief Introduction and Landscape Review and goes deeper to address some of concerns which accompany People Search services.
Such services have become mainstream in the developed world. For example, USA itself has dozens of such providers with Intelius and USSearch (now acquired by Intelius) as the two largest players in the paid online people search space. These two providers have indexed billions of public records related to US residents, covering the entire spectrum from light weight information (like contact details including address, phone numbers, family members) to more serious stuff (like property registrations, value of the property owned, criminal and court records, sex offender registry, income, bankruptcy). The sources of such records encompass telephone directories, utility company records, tenancy and property registration records, business records, court and criminal records among other. If you doubt me, I invite you to go ahead and search for 'Tarunendra Bangari' (my full name) on www.ussearch.com.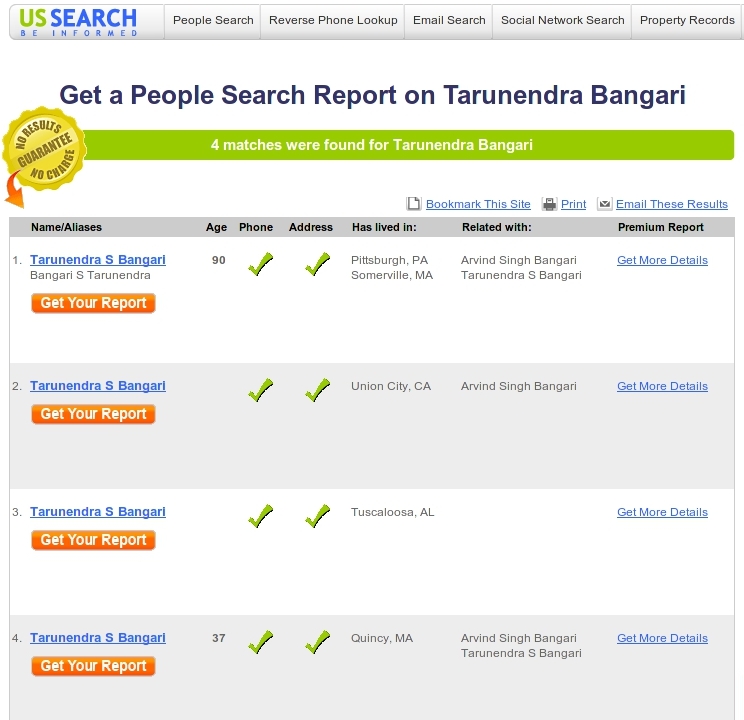 The 4 results shown are mostly accurate (except the age as I still have a long way to go before 90!) but of course, you have to pay up anywhere from $1.95 to $39.95 to get all the details.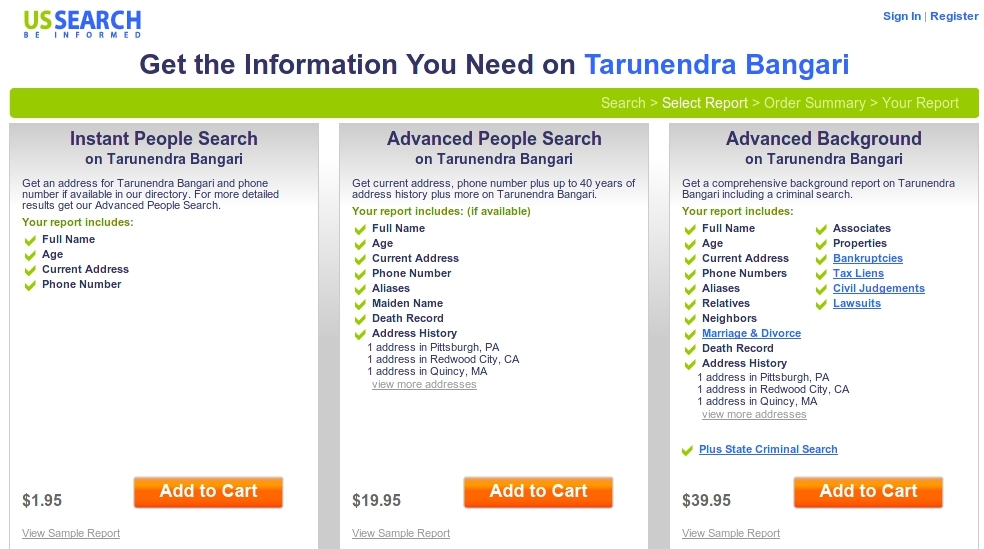 The point which I am driving home here is that with paid reports, you can get to know my full name, date of birth, relatives, neighbours, average income, address, phone numbers, address history, criminal and court records! (Caveat: Of course, since I was in USA only from 2000-2004, some of this information will be outdated.)
Now let us focus on the Indian context. To the extent I am aware of, there is no such provider of People Search services except JantaKhoj. Just like the other global People Search providers, JantaKhoj has relied exclusively on public records. It means that these records are either publicly available on the Internet (though they may not be so easy to find) or available in the public domain for anybody to access.
JantaKhoj does not disclose these various sources of public records, primarily due to business and competitive reasons. But this non-disclosure does not indicate that we have resorted to using clandestine or unscrupulous third party lists which are available all over the market. Each and every record shown within the JantaKhoj People Search is backed by a publicly available link (URL) or source, which was indexed by JantaKhoj. JantaKhoj has also deployed deep web data extraction technology which means that quite a few of the records may not even show up on regular search engines like Google.
We have kept the privacy concerns of the individuals at the highest consideration. Our Privacy Policy clearly mentions how individuals can have their records removed from the People Search service. As and when we receive such requests, we take action on them as per the timeframes mentioned in the policy. The challenge is to explain to the concerned individuals that this information is already available in other public sources and even if we suppress our records, the information will still be available on the original sources.
The more interesting bit is that we have received a fairly large number of requests of people who were not able to find or view their own records in the People Search and have requested inclusion of their details. This number continues to go up every day. While we process these requests on a case by case basis right now, we are in the process of releasing a web request form which will allow users to have their details included in the search database with great ease.
In summary, while the concept of People Search is relatively new to India and causes privacy concerns occasionally, in the longer term, this segment of web based search is poised for explosive growth in the coming years.