A single lie discovered is enough to create a doubt in every truth.
In 1981, Janet Cooke lost American journalism's highest honour, the Pulitzer Prize and her job when her work was exposed as a hoax. The revelation surfaced after it was discovered that she had lied on her resume´ and her biographical record.
Twenty years later, football coach George O'Leary resigned from one of the most coveted jobs in college sports when it was discovered that he had falsified his academic and athletic accomplishments decades earlier.
Enhancing one's resume and presenting it for a particular job opening – is it really lying?
A job applicant had embellished his resume with an experience in a particular skill/domain, of which he hardly had any knowledge about. He was looking forward for a switch and this position was quiet luring. He really wanted to get, at least, an interview call. Sadly, for that particular job, a mandatory condition was some work experience in that skill/domain. Hence, he manipulated his resume and updated his job description, from just a known skill/domain; he included it as good experience in the same.
Another job applicant included a language as known. He couldn't read, write or speak that language. He knew just a few words.
One of the job applicants played with his existing position name and added accolades and awards.
Are all these lies or just beautification of resume?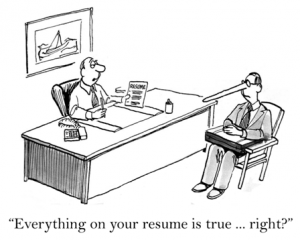 Well, statistics show that about 75% job applicants lie to beautify their credentials. All these have increased due to a tough job market. Candidates get tempted to lie to score at least an interview for the job opening. But is it right?
Not at all! Beautifying one's resume is basically lying about his/her own potential, which is as wrong as presenting fake documents. Not any big lies, not any small lies. In today's world, most of the organizations have reached zero-tolerance towards frauds. About 38% organizations do not consider a candidate if they find out about a candidate lying on their resume! So one misses out a chance to join that organization then and forever!
If at all a person joins that organization by fluke and later he is unable to match the potential he claims in his resume, his job can be terminated. This may happen immediately or after many years. Of course, resume is that sheet of paper which gets you that interview call which you have been waiting for, but it can also work as a fraud proof against you.
A lie is after all a lie. So, let's get back to our original resume and remove the added filters!