Long ago, people lived happily under the rule of a king. The people of the kingdom were very happy as they led a very prosperous life with an abundance of wealth and no misfortunes.
Once, the king decided to go visiting places of historical importance and pilgrim centres at distant places. He decided to travel by foot to interact with his people. People of distant places were very happy to have a conversation with their king. They were proud that their king had a kind heart.
After several weeks of travel, the king returned to the palace. He was quite happy that he had visited many pilgrim centres and witnessed his people leading a prosperous life. However, he had one regret.
He had intolerable pain in his feet as it was his first trip by foot covering a long distance. He complained to his ministers that the roads weren't comfortable and that they were very stony. He could not tolerate the pain. He said that he was very worried about the people who had to walk along those roads as it would be painful for them too!
Considering all this, he ordered his servants to cover the roads in the whole country with leather so that the people of his kingdom can walk comfortably.
The king's ministers were stunned to hear his order as it would mean that thousands of animals would have to be slaughtered in order to get sufficient quantity of leather. It would cost a huge amount of money also.
Finally, a wise man from the ministry came to the king and said that he had another idea. The king asked what the alternative was. The minister said, "Instead of covering the roads with leather, why don't you just have a piece of leather cut in appropriate shape to cover your feet?"
The king was very surprised by his suggestion and applauded the wisdom of the minister. He ordered a pair of leather shoes for himself and requested all his countrymen also to wear shoes.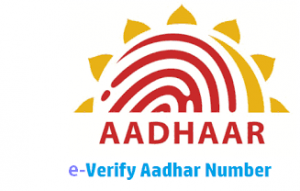 There are few changes which are revolutionary in nature and happen for the good. Aadhaar card is one such initiative. In a country like India, where people belong to organized and unorganized sectors, are from rural and urban areas, there are many who don't have a valid PAN card or passport. They don't need it. They don't pay taxes and for other things they need their ration cards. Ration card is not a valid address proof, which leaves just a permanent address or rent agreement. Many don't have either.
In such a cases, having an Aadhaar card is a ray of hope – of having a genuine identity proof, for everyone, irrespective of age, gender, working class sector, financial sector or place one lives. It is mandatory for all.
At present, there are 105 crore registered people in the Aadhaar database. An, almost, instant validation of an individual, is a feather in the cap of Janta-khoj. Any individual can get their or their employees' Aadhaar e-verification done, almost instantly. Be it a driver, a house help, a blue collar employee or a white collar employee or just a would-be groom, everyone can get verified instantly.
With Aadhaar, demographic and biometric details are attached. Going by a simple daily life example, if we need to hire a house help or a driver and they come with a valid Aadhaar card and specifies all her demographic details, it can be verified instantly through Aadhaar e-verification. Once the Aadhaar verification is successfully completed, they can be hired but if in any case, they commit any foul/fraud, we not only have their photo but also their demographic details with us, as we have their validated Aadhaar card number. Makes life easier and safer, isn't it! So Aadhaar e-verification is a big change and it is here to stay! Let's be safe and verified!