I went to shop at a hyper market and there was a well suited man, who was doing some survey. Being a fresh pass out of an MBA college and knowing the pain of getting these surveys filled, I instantly filled the survey. It was an interesting survey for a well known travel agency and I was happy to fill it. To add to my excitement, there were few FREE gifts too.
I filled the survey and forgot about it. After a few days, I got a call about the lucky draw and the gifts which I won. I was supposed to go to their office at a particular time, to collect the same.
Unfortunately, I, along with a friend, went ahead to collect various gifts. Before handling over me the gift, they requested us to see their holiday packages and other offerings. It didn't sound very weird, so we sat to get some information. There were many couples and families with kids, who were getting information on the packages. All the set up looked quiet real to me and to my friend too; they started showing all the offers they had just for that particular hour of the day, and trust me, the offers were just amazing. I fell in love with the offers, the photos and the whole feeling and impression, they created in my head. After an hour or so, I ended up paying around Rs. 15000. They wanted me to pay around Rs. 45000. I didn't have that much money so I informed them that I will get it done by the next day.
Then the first suspicious thing happened – they started behaving very weirdly. They were really pushing me to pay the entire amount. Then it started smelling like a rotten fish. After coming back from their office, when I explored their whereabouts on net, I realised that I was duped, fooled and cheated. The very next day, I went to that place again, there was no trace of those people.
A 2016 report states that the travel industry does the maximum online transaction –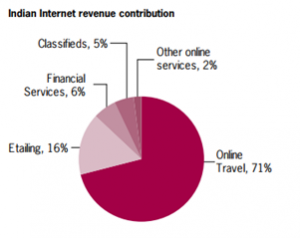 There are many travel agencies in India, registered or unregistered. Almost all of them have one thing in common, the flashy tour packages, beautiful location, amazing pictures of family/friends enjoying and a perfect plan for you. Their employees have impeccable communication skills and incredible convincing power. If you talk to them, everything seems to be so dreamy – location wise, price wise, food-wise and in every way possible.
Reality is something else. India is facing a new challenge in the tourism sector. Below chart shows the same –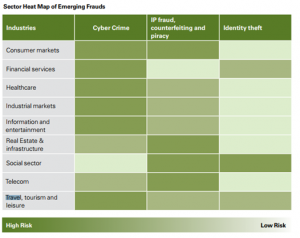 Online money transactions involved in this sector makes it very vulnerable sector. The fraud is on high rise. People have paid the travel agents in lacks per head or even in crores for nothing.
Few cases which were reported were:
A group of people, who paid lakhs per head for a luxurious trip to a hill station and were promised a personal Volvo bus, were stuffed in already packed buses.
A family booked a resort through an agent, did the entire money transaction, just to find out that there was no booking done for that resort.
One gentleman was cheated to the tune of about one crore rupees in the name of an international tour package.
These are just a few reports which made headlines; there are many reported and unreported frauds which happen in the name of tourism every day.
How are we ever going to curb such things?
Of course, background verification.
Before doing any money transaction, everyone must do a background check of the travel agent – personally or by a third party. Even before buying a small thing, we do read the reviews. What's the harm in reading about the travel agent you are dealing with.
If there are only few reviews online and still you want to confirm about a perfect trip and of course, if the amount is huge for the travel, being sure about the trip ahead is more sensible. Verifying a tour agency is much cheaper than paying an entire amount in lakhs per person or crores and getting duped. At least, we will know what to expect from the travel agency.
With the way time is changing, where schools have also become a crime place, it's better to plan a trip with a travel agent whose background verification result is clear. This keeps our plan as expected and safe and sound! So, let's be informed and let's be strong. What do you think?
Chart 1- http://gtw3.grantthornton.in/assets/ASSOCHAM_E-commerce_in_India.pdf
Chart 2 – http://www.in.kpmg.com/FraudSurvey2012/Reports/KPMG%20India%20fraud%20survey%202012.pdf