India, a place where, if not every but majority of houses have one thing in common – House helps. House helps are not only the ones who do the monotonous house work, but in a way, they also help Indian women to get back to the work, even when they have little ones back home.
There are many families which prefer live-in house-helps. Others prefer to have part time helps.
Considering the case of live-in house-helps, there have been a lot of unpleasant incidents. In some cases the live-in house help stole money and disappeared in thin air. In other cases it was worse, they tried to kidnap the child for money. Not to forgot the worst, few well-planned murders.
People have become aware of the various nuisances which are created due to lack of background verification of live-in maids. So, people who want to keep live-in house helps are becoming smarter and getting a background check done. But one sector which still lacks awakening for the need of background verification and that area is of part-time house helps.
I can recollect a recent incident, when my friend lost her two rings worth Rs 2 lakhs and 65 thousand. She came back from a party pretty late and kept her rings on the side table. Next morning she completely forgot about the rings. The maid came, cleaned EVERYTHING and went. About lunch time, she remembered her rings and thought of keeping it at a safe place. To her surprise, both her rings were not there.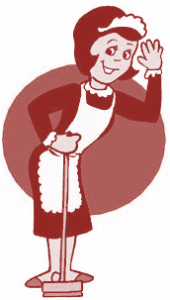 She immediately called the house help and enquired about the rings. The help said she had not seen any rings over there in the morning when she came. My friend went ahead and immediately filed a police compliant. The police did their investigation and some background checks of the house help.
That house help had a very scary background. There were two other FIRs lodged against her in other police station.
After just half an hour interrogation, the house help confessed her crime and the rings were recovered.
That house help was working at my friend's place for more than a year. She was also working in nearby houses for even longer period. None of the families had even an iota of doubt about her background. They were all very happy with her work. The fact was different. That maid could have easily vanished and it would have been difficult for my friend to find her. But she was quick in contacting the right help and the police also hit the iron while it was still hot. The maid didn't get time to escape.
For the part-time house helps, we generally think, it's just a matter of few hours and somebody would be home when they come. But it could lead to danger. And it is about time to change our mind set and take background verification more seriously. Every maid should be verified for our own and our family's safety. What do you say?