Month:
September 2017
Published On Published By Swarn

UPDATED ON

Social media has become a necessity, a medium of communication, a status symbol, an influencer or a habit. Everyone has been touched by social media. It has become an integral part of our lives. All of us freely share our thoughts, positive or negative with the rest of the world. A survey says these are most popular reasons for sharing information on social media: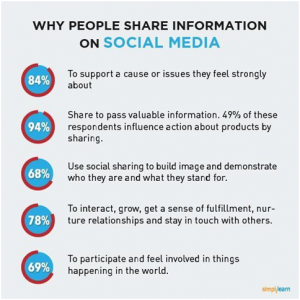 Let's assume two gentlemen – Mr. X and Mr. Y.
Mr X was a young promising individual. He led a dual life – professional and personal. In his  professional life, he worked for a renowned  firm. He had sound technical knowledge and was a part of a very critical project with highly confidential data.
His personal life was a complete social one, at least on the social media platforms. He had thousands of followers on various social media platforms. He loved to update his each and every achievement on all platforms without fail.
The professional project he was working for was a prestigious one and just to flaunt his status in his company and to show off his important role in that project, he leaked little 'harmless' data. 
 Well, he had to give a resignation after that and the company suffered a great loss. There was no malice in his heart but his ignorance and desire to flaunt his status in that crucial project, was very expensive for both him and his organisation. 
 He left that job, found another and life went on.
At present, he is part of another important project.  
 Mr Y was a very aggressive and promising employee of another organization. Whether the project was strictly time lined or the resources scarce, he used to finish the project in his hand on time. Always! He was the kind of resource who was hard to find.  
 There was a time, when the company was not doing very well in the market and hence it didn't give increments to its employees. It happened for three consecutive quarters. This situation is not uncommon. It happens!
 Mr Y didn't take this well and found another job for himself. This opportunity matched his expectations. 
 He updated his new found job on social media, an absolute mandatory step in current times; He expressed his happiness for his new found job and along with that, he also posted a negative comment about his previous organization. 
An employee of three years posting a negative comment on his social media platform, does it harm the company's goodwill? Anyhow at the moment, Mr. Y is at a good position in the same company he joined later, but the market is not that good, again!
These are real life scenarios. It happens. But are organization of today ready for such employees?
You can't buy goodwill, you can only earn it! We all need to be more responsible when we work for an organization and if not, will the organizations have to pay the price?
Of course not!
Social media scans are here. It helps organizations to verify the potential candidate on the social media front too. It scans various social media and business networking sites, blog sites, micro blogging sites, photo/video sharing sites, and other web resources to flag any potentially negative information about the potential candidate.
Mr X and Mr Y both, are at responsible positions, but who wants to take a chance, they might not make the same mistake! Or they may! Who knows? It's always better to be safe than be sorry!
Source: https://www.simplilearn.com/real-impact-social-media-article
Published On Published By Akansha
Have you got an objectionable picture on Facebook?
A furious political comment on Twitter?
Open affiliation to certain 'questionable' forums/communities?
Are you flaunting' socially questionable' actions on social media?
Hold your horses, before impulsively posting your views on social media platforms!
Today, everyone is on social media! It's become a norm to be socially active on these platforms. A lot many companies sweep their prospective candidate's social media posts and feeds. Social media has made it a cakewalk for employers to map your interests, activities and affiliations. The manager hiring you doesn't need to spend time with you to figure you out, they just need to spend time on your social media handles and bingo and they can picture your personality.
So, for a potential candidate seeking employment, social media provides an opportunity to look up the company and vice versa.
Social media today is literally all over the globe. Recently LinkedIn crossed the 10 million users mark in India and Facebook tops the chart with around 34.6 million active registered users in India. Twitter, though arrived late on the scene, will soon touch 16 million Indian users. These statistics clearly reflect why every company today has its presence on social media. LinkedIn too is slowly catching up.
I would like to share with you a personal experience. A fellow classmate of mine 10 years ago, while we were awaiting our placements, was offered a PPO (Pre placement offer) with the company he interned with. He was hailed a hero in the class! Rightly so, as he was the only one who was given a PPO. Those days Facebook hadn't really caught up, Orkut was 'the' thing then! He had liked a page on Orkut which badmouthed the company. The title of the group was – 'We Hate XXX'. He also had posted a comment there, putting forth a few things he didn't like about the company. Within a few days, he received a letter from the companies HR stating, they withdraw the PPO extended to him. Reason cited was, he was inciting hate towards the company and badmouthing the company in public. They had enclosed a print screen shot of his comment and proof that he was a member of that community on Orkut. Even 10 years back, companies would scan social media platforms to keep a track of their employees/ prospective employees. Organizations are right on their part, why would they want to absorb a candidate who at the outset is disengaged and disloyal to the organization. I learnt a lesson of not ever badmouthing my organization on social platforms, early in my career.
While many in my class objected to this 'unfair decision', organizations are justified on their part to ascertain a candidate's fitment for a position determined by his social media posts and pictures. The reality is that social networking handles of candidates talk a lot about their personality, interests and disposition in general. For example: – Using vulgar language, bad mouthing on social media could suggest behavioral issues such as immaturity and inability to resolve conflicts amicably. Similarly, endorsing grapevine about the private affairs of other people is a sign of spreading rumors and gossip that could impact their ability to function in a role that demands confidentiality.
In a recent case, a company hired a candidate after doing a professional background check, but missed out on a social media scan. Later, the employee displayed murderous tendencies by attempting to harm his girlfriend with a knife, following a domestic spat. When the company approached the police for help, they were questioned about whether a background check was conducted. It was then found, when his social media activity was made public, that he had a tendency towards violence. They found violent content on his social media platform.
By extending the verification to include social media, it can aid in gauging any extremist behavior and help avoid problematic incidents. It also serves as an indicator of a candidate's work ethics and temperament.
Let's look at few parameters which a company might use to undertake a social media check:
• Companies might easily trace employees who badmouthed their previous employers, based on their comments or status updates.
• Excessive twittering or round the clock activity on social media, might point out an employee's lack of dedication towards his/her job during office hours.
• Obvious drug use.
• Discussing private company information.
• Comments containing racial slurs and other offensive language. Although it's a personal profile, conclusions can be drawn on how a particular candidate thinks and reflect his/her sensitivity.
Social networking sites are here to stay and hence it's necessary for both the employers and employees to ensure that they maintain certain ethical guidelines. We don't suggest you to be weary of expressing your personal, political, social views. However, ensure, they don't work against you in the future. It would be prudent to weigh carefully what you post; after all it is a public platform. As employers are increasingly viewing social media pages to evaluate if candidates are worthy of hiring and culturally fit in, it is advised to be careful about what you post online.
Brace yourself for social media scans!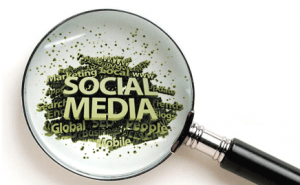 Published On Published By Swarn
I went to shop at a hyper market and there was a well suited man, who was doing some survey. Being a fresh pass out of an MBA college and knowing the pain of getting these surveys filled, I instantly filled the survey. It was an interesting survey for a well known travel agency and I was happy to fill it. To add to my excitement, there were few FREE gifts too.
I filled the survey and forgot about it. After a few days, I got a call about the lucky draw and the gifts which I won. I was supposed to go to their office at a particular time, to collect the same.
Unfortunately, I, along with a friend, went ahead to collect various gifts. Before handling over me the gift, they requested us to see their holiday packages and other offerings. It didn't sound very weird, so we sat to get some information. There were many couples and families with kids, who were getting information on the packages. All the set up looked quiet real to me and to my friend too; they started showing all the offers they had just for that particular hour of the day, and trust me, the offers were just amazing. I fell in love with the offers, the photos and the whole feeling and impression, they created in my head. After an hour or so, I ended up paying around Rs. 15000. They wanted me to pay around Rs. 45000. I didn't have that much money so I informed them that I will get it done by the next day.
Then the first suspicious thing happened – they started behaving very weirdly. They were really pushing me to pay the entire amount. Then it started smelling like a rotten fish. After coming back from their office, when I explored their whereabouts on net, I realised that I was duped, fooled and cheated. The very next day, I went to that place again, there was no trace of those people.
A 2016 report states that the travel industry does the maximum online transaction –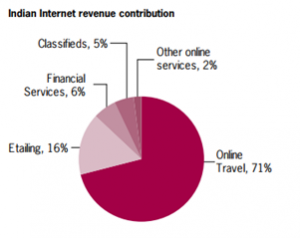 There are many travel agencies in India, registered or unregistered. Almost all of them have one thing in common, the flashy tour packages, beautiful location, amazing pictures of family/friends enjoying and a perfect plan for you. Their employees have impeccable communication skills and incredible convincing power. If you talk to them, everything seems to be so dreamy – location wise, price wise, food-wise and in every way possible.
Reality is something else. India is facing a new challenge in the tourism sector. Below chart shows the same –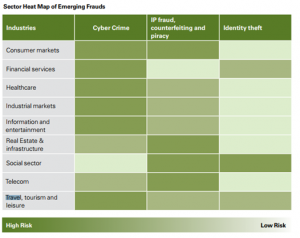 Online money transactions involved in this sector makes it very vulnerable sector. The fraud is on high rise. People have paid the travel agents in lacks per head or even in crores for nothing.
Few cases which were reported were:
A group of people, who paid lakhs per head for a luxurious trip to a hill station and were promised a personal Volvo bus, were stuffed in already packed buses.
A family booked a resort through an agent, did the entire money transaction, just to find out that there was no booking done for that resort.
One gentleman was cheated to the tune of about one crore rupees in the name of an international tour package.
These are just a few reports which made headlines; there are many reported and unreported frauds which happen in the name of tourism every day.
How are we ever going to curb such things?
Of course, background verification.
Before doing any money transaction, everyone must do a background check of the travel agent – personally or by a third party. Even before buying a small thing, we do read the reviews. What's the harm in reading about the travel agent you are dealing with.
If there are only few reviews online and still you want to confirm about a perfect trip and of course, if the amount is huge for the travel, being sure about the trip ahead is more sensible. Verifying a tour agency is much cheaper than paying an entire amount in lakhs per person or crores and getting duped. At least, we will know what to expect from the travel agency.
With the way time is changing, where schools have also become a crime place, it's better to plan a trip with a travel agent whose background verification result is clear. This keeps our plan as expected and safe and sound! So, let's be informed and let's be strong. What do you think?
Chart 1- http://gtw3.grantthornton.in/assets/ASSOCHAM_E-commerce_in_India.pdf
Chart 2 – http://www.in.kpmg.com/FraudSurvey2012/Reports/KPMG%20India%20fraud%20survey%202012.pdf